For Current News - Follow us on Facebook.
Congratulations to our 2019 Award Recipients!
Jacki Zediker Cattlewoman of Year (on left in left picture)
Leanne Brown Top Hand (on right in center picture)
Kathy Hayden Pioneer Beef Woman (on right in right picture)
Congratulations to our 2017 Cattlewoman of Year Lynda Beverlin!
(L-R: Dave Meurer representing Senator Ted Gaines office, Tara Porterfield SCCW President, Lynda Beverlin 2017 CattleWoman of the Year, and Erin Ryan representing Congressman Doug LaMalfa's office)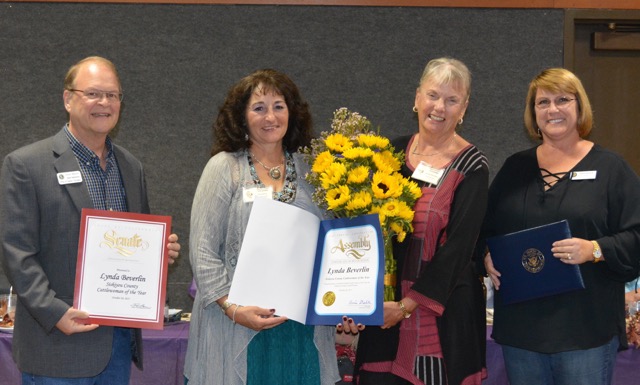 2017 Pioneer Beef Woman is Patti Miller!
(L-R: President Tara Porterfield and Patti Miller - 2017 Pioneer Beef Woman)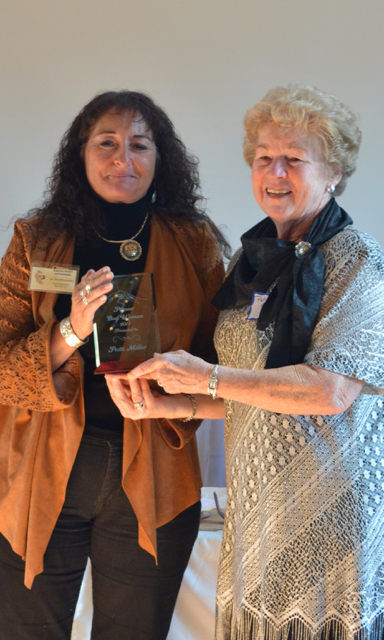 2017 Top Hand is Colleen Cowley!
(L-R: President Tara Porterfield, Colleen Cowley - 2017 Top Hand, & Caroline Luiz - Top Hand Committe Chair)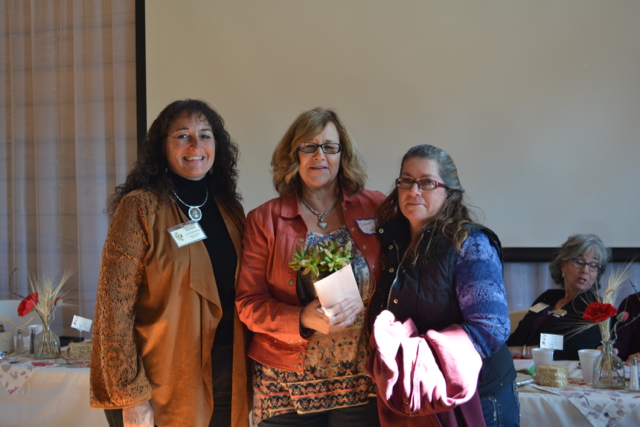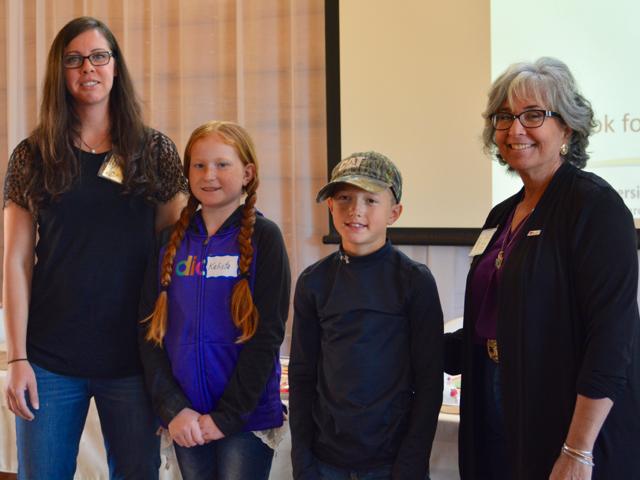 2018Heifer Project Scholarship winners Kalista Hurliman from Scott Valley for Siskiyou Golden Fair and Trapper Cundall from Butte Valley for the Tulelake-Butte Valley Fair, with Carissa Rivers and Sharon Erickson.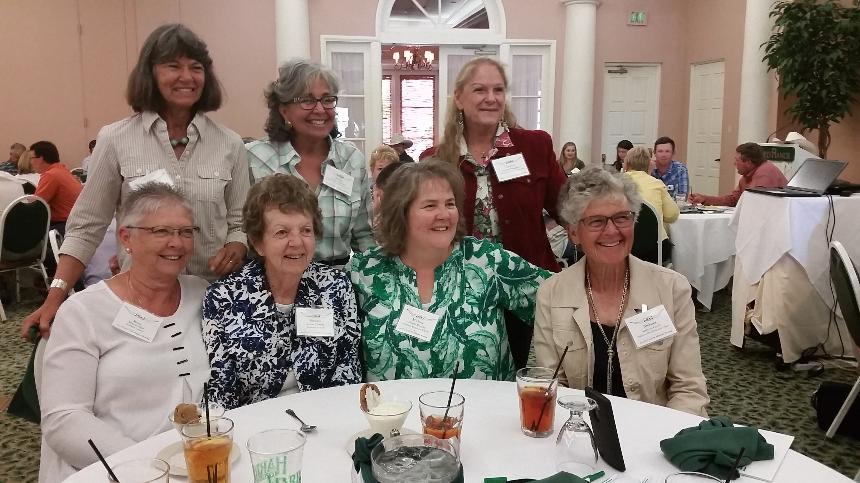 Above: SCCW members (l-r) Marcia Allen, Cheryl Foster, Barbara Cowley, Sharon Erickson, Michele Murphy, Carolyn Houghton and Melanie Fowle attended the Mid- Year meeting at Harris Ranch. For more on the meeting, please read our July 2017 Newsletter. Thank you to all who travelled so far to attend the meeting!
ANCW Region 6 Meeting in Elko, NV April 27-29, 2017 Highlights
Submitted by Melanie Fowle
Day 1
Dr. Amilton de Mello – Univ. of NV
Caramelization gives flavor but reduces moisture
Brisket – can't heat it very much – 225degrees Fahrenheit to melt connective tissue
Acute stress 5-15 minutes – no change in meat color – LONG STRESS periods = dark cutter
Flat iron steak comes from chuck
Bonanza cut – 1 lb. per carcass – trimmed from flat iron – very tender
Day 2
Rex Steninger. Elko Co. Commissioner
88% NV owned by Federal Gov.
Stressed importance of 10th Amendment – any right not expressly given to the Federal gov. is a state's right.
Melanie Fowle – "Is Your Unit in a Stew?"
Look inward to self – identify gifts and weaknesses. Each is associated with a breed of cattle (Angus, Hereford, black baldy, Shorthorn or Balancer) that best fits our strengths and weaknesses – shared within each breed selection and then to total group how best to work with that personality type.
Dr. Lindsay Chichester – Social Media Workshop
FB most posts with 3.3 million per minute
Best time to post: midweek 1-3; Thursday and Friday 18% higher; 7pmok – nothing after 8 pm
Boost post with small investment to reach more people
Photo has more impact than just words
Dr. J.J. Goecoechia, DVM, NV Dept of Ag
It is important to not let your work take over your life. It is family who will get you through the difficult times.
ANCW Elections
Region VI rep on Communications/Membership: Cheryl Foster
Region VI rep on By-Laws: Sidney Wintermote
Region VI rep on Ways and Means: ReNee McKinnon
Northeastern NV Museum
Impressive collection of Will James artwork and books
Trent Loos – Loos Tales, Nebraska
Work on telling our story and giving the correct message
CattleWomen catered the tri-tip dinner
Elko Euzkaldunak Basque Dancers entertained
Day 3
Maggie Creek Ranch
Owned by Searle Family and managed by Jon Griggs
Environmental Stewardship Award winner in San Diego, 2015
Jon give us a power point presentation which was a battery-operated drill with a pointer on it that he used to illustrate key items on photos that he flipped through by hand. He shared how the ranch had once again managed to get the creeks to flow on top of the land as they had years ago.
We all admired his roan horse and border collie dog Kate as he rode across the pasture to meet the bus.
California Trail Interpretative Center
We learned the stories of the pioneers who endured the 2000 mile trek to find gold, land and adventure. Between 1841 and 1869 up to 250,000 set out for CA.
Star Hotel – opened 1910
Basque restaurant with a delicious family style lunch.
J.M. Capriola Co.- opened in 1929
Tour of this business plus the former home of the G.S. Garcia Saddle Co.
The Nevada Cattlewomen Inc. did a fantastic job planning this event!
CCW Spring Meeting at Harris Ranch in Coalinga, CA March 11-12, 2017 Submitted by Heidy Carver
On the long drive to Coalinga, it was so nice to see tall green grass, water in areas that are usually dry, snow on the distant mountains, and spring flowers. We had great attendance from Siskiyou County, with approximately 15 members. There were approximately 100 CCW members in attendance. Always great to catch up with fellow cattlewomen from throughout California and share stories. The first day was a great Beef Education Day planned & hosted by our own Melanie Fowle. The Beef Promo and Ag in Classroom hours will still be tracked using Survey Monkey for this fiscal year and are due by October 31, 2017. It would be greatly appreciated if submitted after each event. Reminders that Beef Promo is presenting to college students or adults and Ag in Classroom is presenting to K-12 students in a school or field day setting. Also at a large event, do not count each workshop station individually, just the total number of attendees presented to at that event. Nine CattleWomen units that had submitted their reports, including our SCCW unit, were recognized for their efforts in reaching over 14,000 people with Beef Promo messages so far this fiscal year (since October 2016). Next Malorie Bankhead spoke about tips for living a positive life and being happy. Happiness comes from choosing to be positive and is a roller coaster ride. Always embrace who you are and that "off" days will happen. But a bad day doesn't make a bad life. When having a bad day, remember to keep a "PEP" in your step (People you can turn to, Experiences that make you happy, and Places that make you happy). Next Kern County Cattlewomen did a fashion show presentation on the history of cattlewomen and Mona Carver read the poem "A Woman's Place". Barbara Martin, who founded Dairy Goddess Farmstead Cheese business, spoke about the importance of social media in promoting a small business and the need to have a business plan when starting a company. Next was a creative presentation on how to draw a cow by Victoria Brussow. Some of us are artistic & some of us just do what we can… Sheila Bowen and Debbie Hay gave a slide show presentation on how to create professional informative Feature booths at fairs. The key is to choose items that are reusable from year to year and can fit into any type of Fair theme. The CA Beef Council has released the BEEFabulous smart phone app to the general public to promote beef to the Millennial generation. After a nice lunch outside on the patio, we returned for a fun afternoon of learning different types of 'hands-on' lesson activities and presentations to promote beef in the school classrooms. There were 5 sessions and attendees split into groups and rotated through all 5 stations. Candace Peterson showed how to play the fun Beef Pong learning game; Lynda Beverlin presented Beef By-products; Melanie Fowle covered the Cattle Health session; Debbie Torres reviewed Agricultural kids books/pamphlets and where to find that type of information; and Rita and Lori March did Beef Cuts lesson. The final Ag in the Classroom presentation of the day was by Jacki Zediker and Nicole Stevens. They showed us how to dissect beef hearts by providing 12 beef hearts so each group could have hands on experience, and they explained the parts and functions of the heart. Siskiyou County Cattlewomen is the only group to her knowledge that goes to local schools and helps kids dissect beef hearts. The kids really enjoy it and the lesson fits very well into Science and Health studies at schools. The day ended with a relaxing social time with snacks before a dinner in the ballroom that included great entertainment provided by the Make It Fun gals (Debbie Hay and Sharon Erickson) - they did a funny skit about the day in the life of a ranch wife, complete with a hilarious list of 'You might be a ranch wife if……..". Thanks for ending the day with laughter! Sunday morning was the Board of Directors meeting. President Cheryl Foster did a great job running an informative and efficient meeting. California was well represented at the ANCW Convention in Nashville, TN in January 2017 with over 200 attendees. ANCW membership is down to 818 due to not sending out renewal notices, so notices will be sent as a reminder. CCW's goal is to increase our ANCW membership by 1% by March 2018. There are currently approximately 175 CA members in ANCW. The Region 6 ANCW meeting is in Elko, NV April 27-29, 2017. California will be hosting the 2018 ANCW Region 6 meeting. The CCW Beef Ambassador Contest is April 28-29, 2017 in Bakersfield, CA. There will be 3 Senior Winners and 3 Junior Winners, to represent the three regions in CA. The CCW has approximately 1700 members, the count is still being finalized due to transition of membership chair. It was approved that CCW donate $1,000 to the fire relief effort in the Midwest. Also the CCW donated $150 to the Plumas/Sierra unit to help replace equipment lost from flood damage to their storage facility. CCW will continue to pay for all of the costs of the Powder River raffle and split the ticket sale income 50/50 with each unit who generates sales. The 2017 Weight Loss contest will be starting soon. All proceeds go to the Heritage Foundation for scholarships. The new 'I Heart Beef' pins will be available at the June CCW meeting. The Cowbelle of Year nomination form is being revised and will be available at June Meeting. The next CCW newsletter will be in May 2017. Reminder that unit delegates/proxies, for the CCA/CCW June 21-23, 2017 Mid Year Meeting at Harris Ranch in Coalinga, CA, need to be submitted to both Callie Borror and Tara Porterfield by June 12, 2017. Meeting was adjourned at 11:15am. And the long journey home began. Mount Shasta covered in snow was a welcome site!
2017 Siskiyou County Beef Ambassador Contest winners: (Left to Right) Olivia Hanna 1st Junior, Nicole Downey 2nd Junior, and Angelee Dowling 1st Senior. Thank you to their dedicated coach Melanie Fowle. Also to Lynne Bryan and Katie Bryan Morris for helping with the contest. Photo by Etna FFA.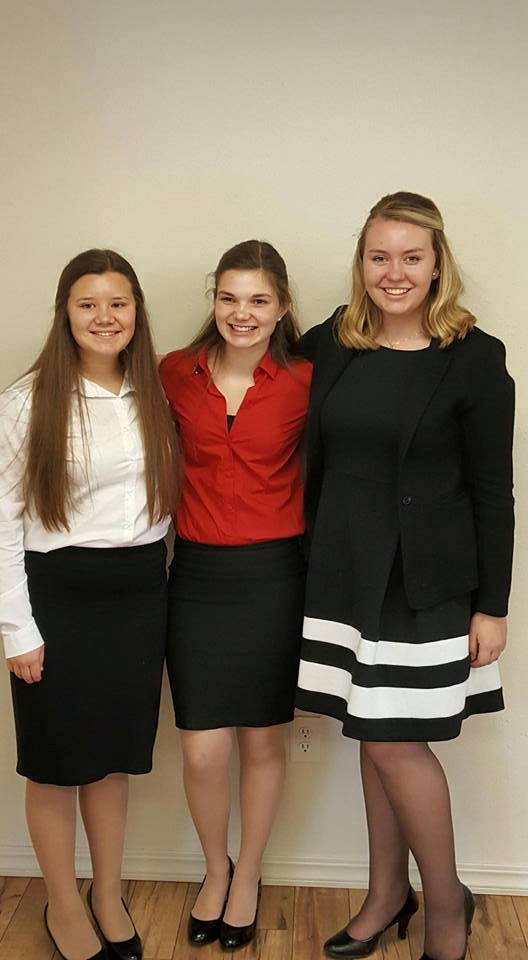 Congratulations to our 2016 Top Hand Recipient Jacki Zediker ! Thank you for all that you do for SCCW and the rest of the Ag community in Siskiyou County. Jacki is on the left with Caroline Luiz presenting the award. Photo by Tara Porterfield .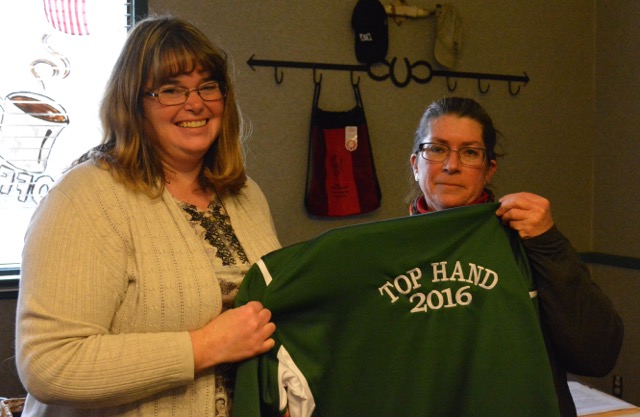 A few pictures from our January 2017 Winter Meeting
A few pictures from a great CCA/CCW Convention in Sparks, NV Dec 1-3, 2016
Congratulations to our 2016 Cattlewoman of the Year Melanie Fowle!
Left to Right: Sharon Erickson, Kyle Fowle, Melanie Fowle, and Cheryl Foster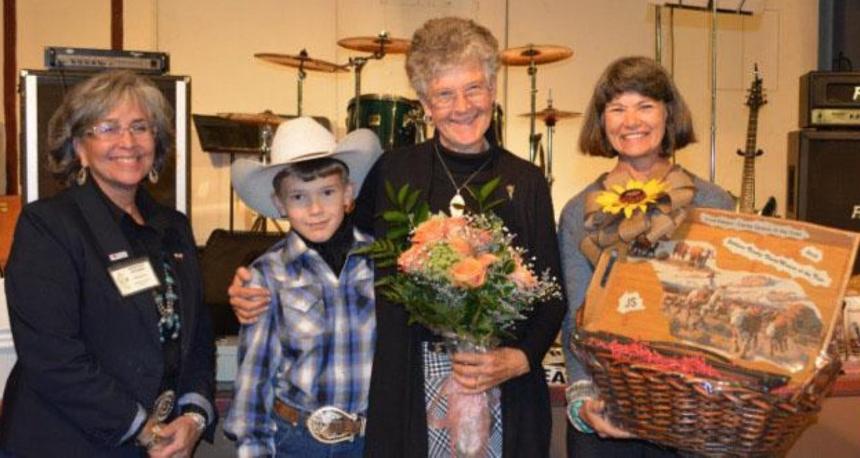 Congratulations to our 2016 Pioneer Beef Woman Melanie Fowle!
MELANIE FOWLE Honoree at Cow Palace! From California Cattlewomen. This year, the Cow Palace will be honoring Melanie Fowle (Siskiyou CW) during the Grand National for her work in educating youth about Agriculture. Each year she and other women from her unit travel 350 miles from their ranches in Northern California to Gordon Lau Elementary School in San Francisco, CA. It is there that they tell the story of Agriculture to school children. Through eight-minute rotations, they are able to work with 350 students at the day-long event. Currently they alternate and give classroom presentations one year, and live farm animal presentations the next. It is a challenge to drive a goose neck trailer full of farm animals 350 miles and then through the narrow streets of China Town to deliver livestock and setup the day's activities. But Melanie and her crew are undaunted. They schedule the visit the same week that the kids visit the Cow Palace. When the full day of Ag is over at Gordon Lau Elementary, the Siskiyou ladies stay an extra day to present a stations for the Cow Palace Farm Tours. This type of effort shows a genuine love for both children and agriculture. Some of the children have never seen farm animals, much less touched them. It is an opportunity to leave a positive memory and plant the seed of appreciation for agriculture in these children. Melanie has been doing Ag in the Classroom work for many years. She has presented Agriculture lessons to St. Paul's Catholic School and Grattan School - both in San Francisco. She has presented to schools in Sacramento and in Siskiyou County. In all, she has given over 9,000 children a better understanding of California Agriculture. Melanie is also past president of American National CattleWomen (2015), California Cattlewomen (2010-2012), and American Hereford Women (1992-1993). She works hard on her ranch in Scott Valley where she raises cattle and sheep. She makes time to give back to her community through a number of volunteer organizations and local schools. Please join the Cow Palace as they honor our fellow CattleWoman, Melanie Fowle, at "Lunch at the Palace" on SATURDAY, OCTOBER 15TH, from 11:30-2:30.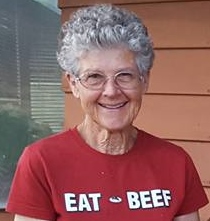 Congratulations to Tom Hayden the 2016 Cattleman of the Year!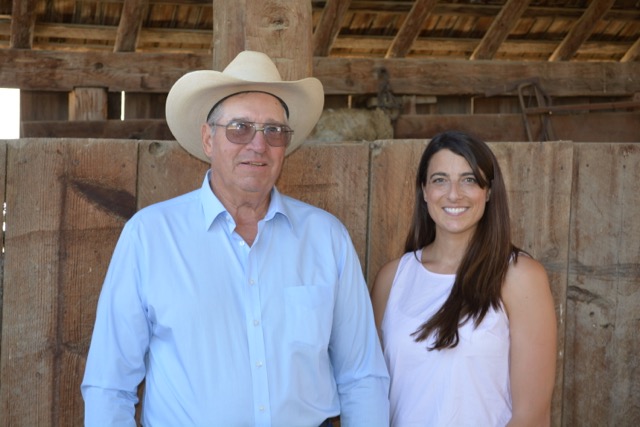 Some pics from Summer 2016. Top to Bottom: SCCA/SCCW board at the Cattle Tour, Fair Sandwich Booth, Fair Feature Booth, and Ag in the Classroom.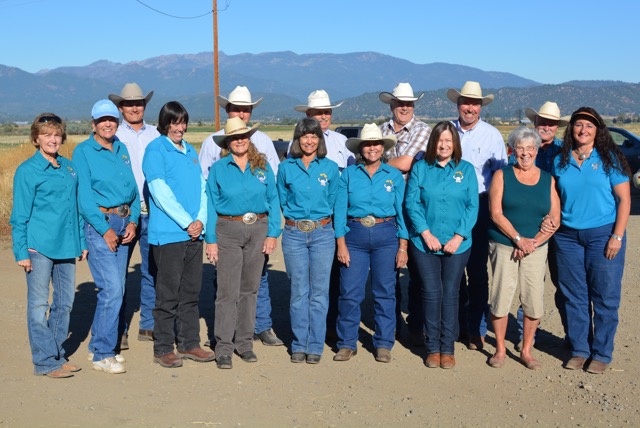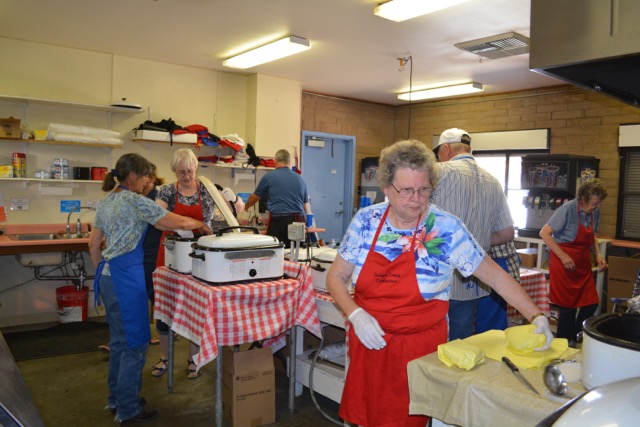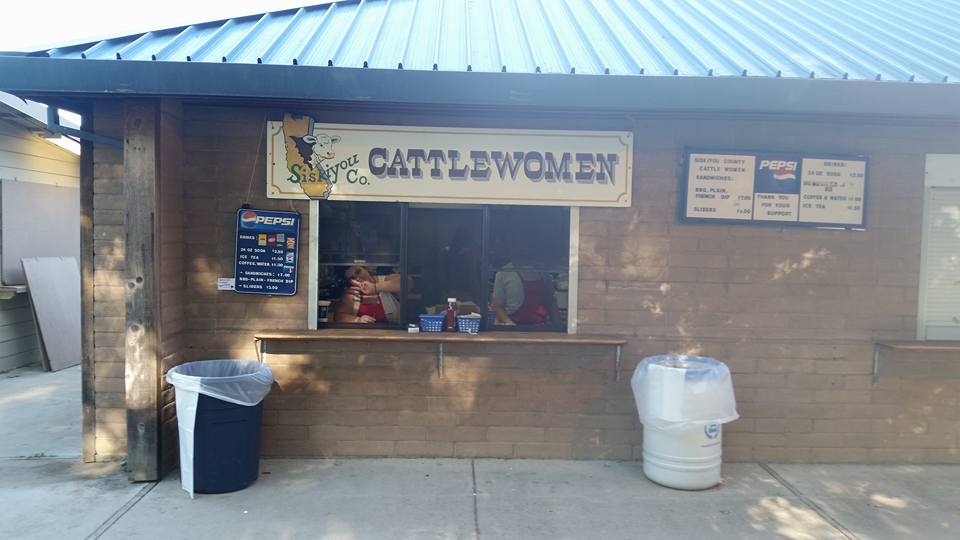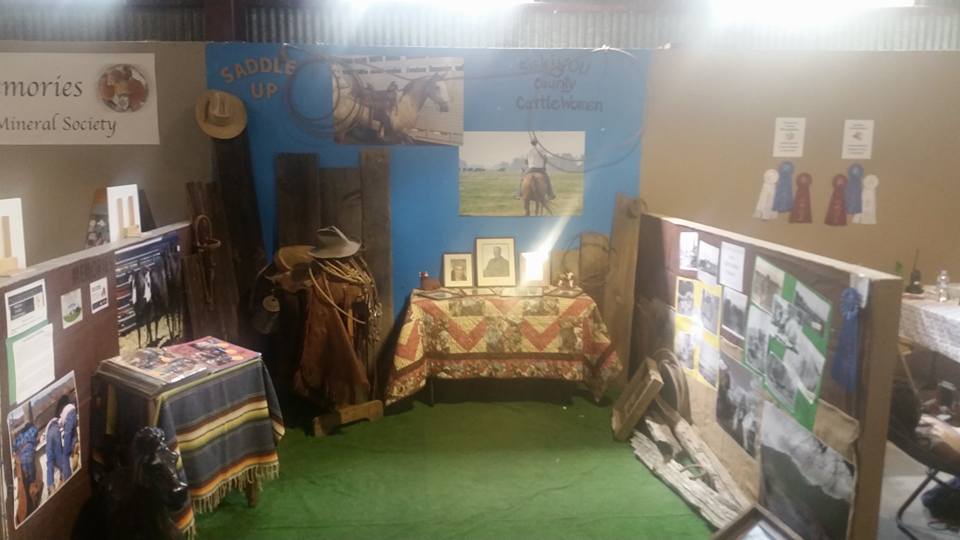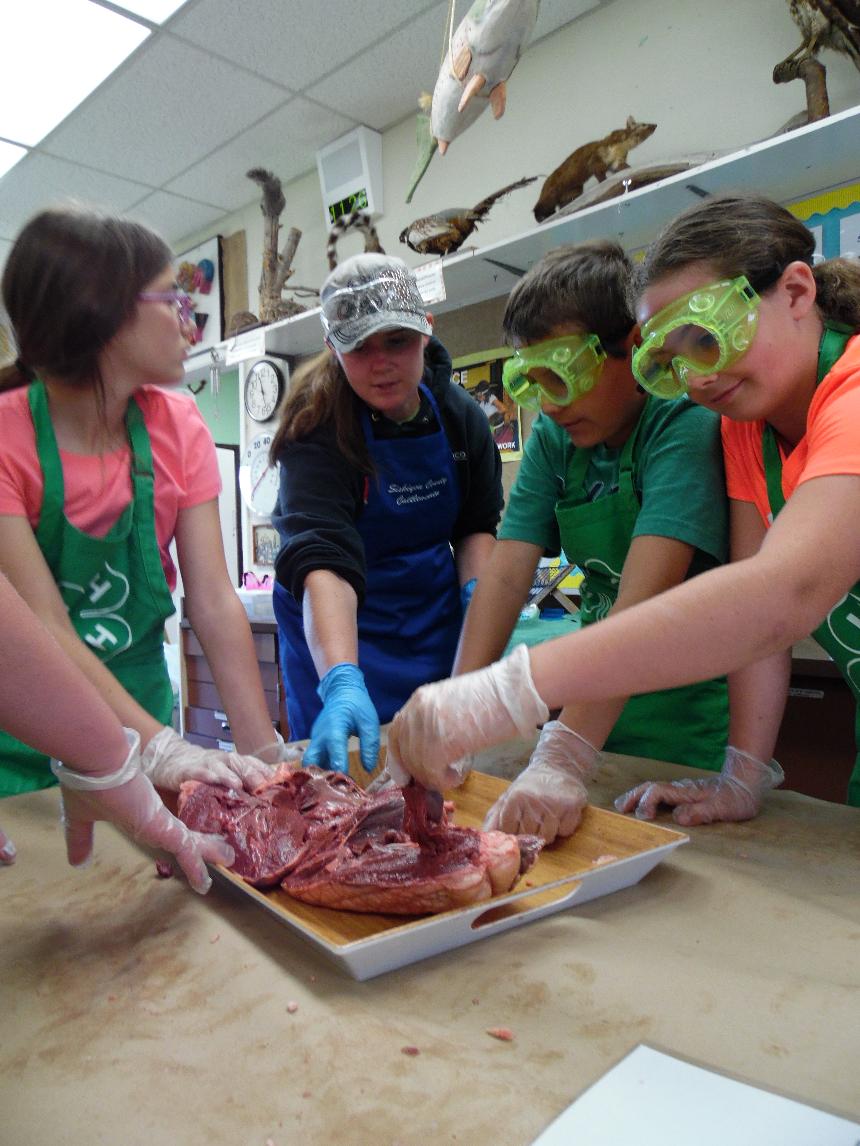 Some pics from our Spring 2016 Events. Top to bottom pictures: ANCW Meeting, CCW Mid Yr. Meeting, 2016 Jennifer Kuck Bridwell Scholarship recipients - Siskiyou County 4Hers, SCCW May 2016 Meeting, 2016 Ag Awareness Day, May 2016 Etna Rodeo Walking Tacos, April 2016 SCCW Board Meeting, & Vera Clement's 90th Birthday!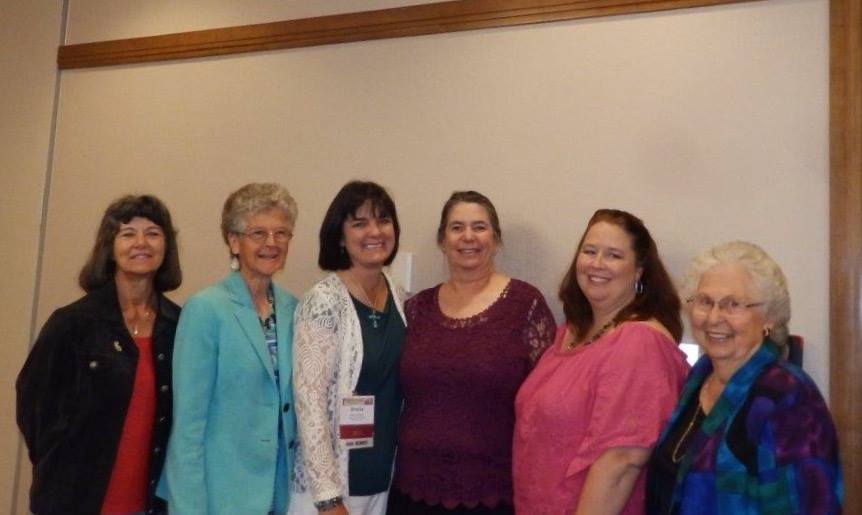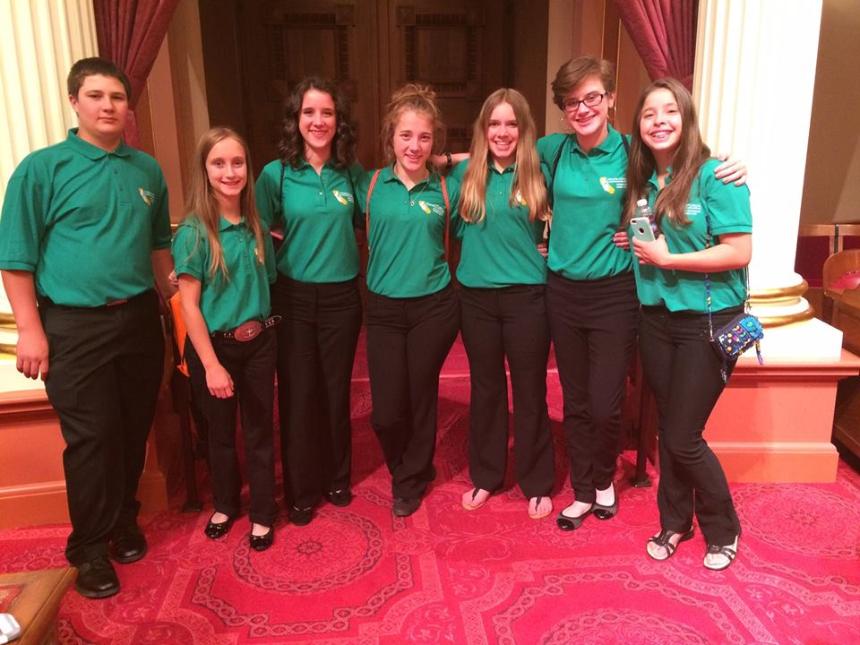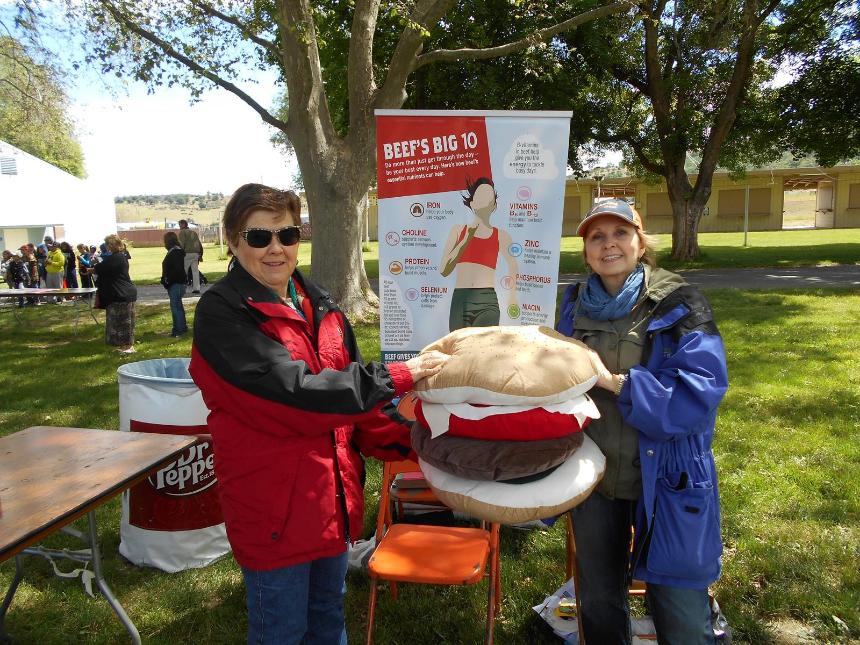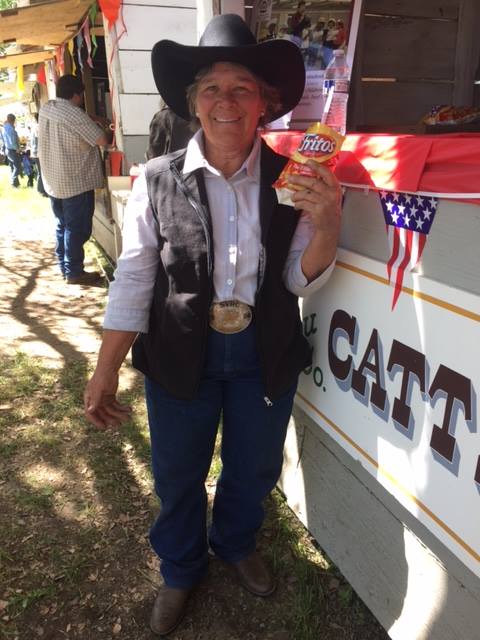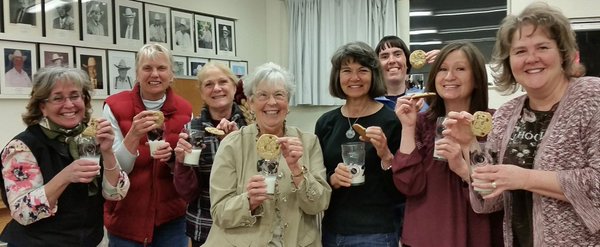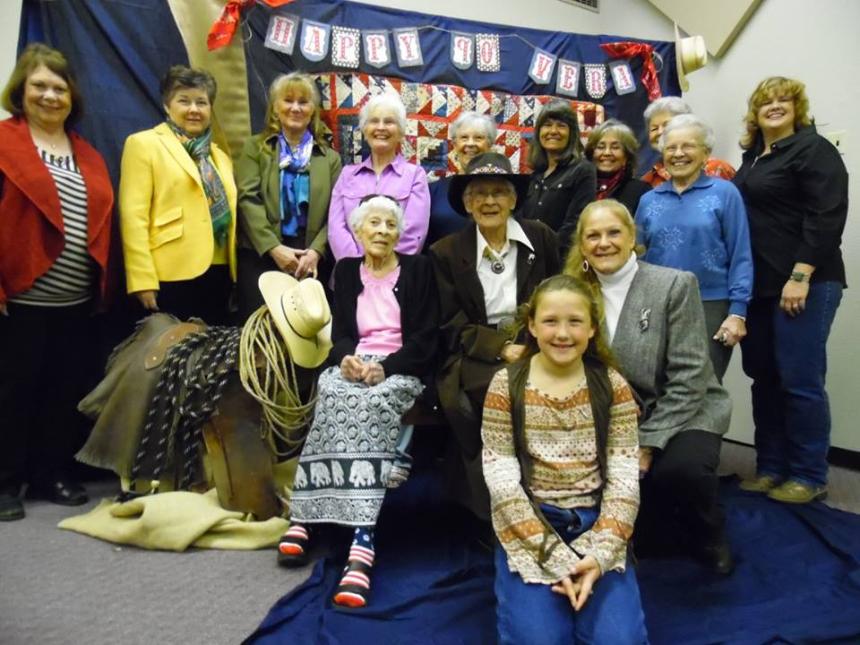 The Siskiyou County Beef Ambassador Contest was held on March 20, 2016. It was inspiring! Congratulations to our participants and thank you to our judges and helpers. We have great kids in this county!!! Nicole and Mikayla will compete at the State Beef Ambassador contest on April 9, 2016 in San Jose, CA.
Left to right: Nicole Downey - Junior Winner, Angelee Dowling - Senior runner up, and Mikayla Duchi - Senior Winner.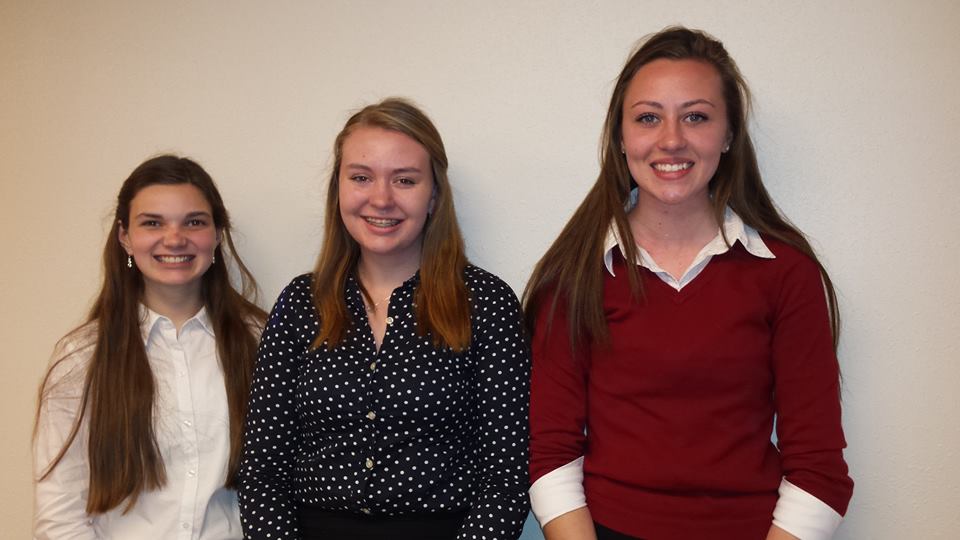 Beef Ambassador contestants with coach Melanie Fowle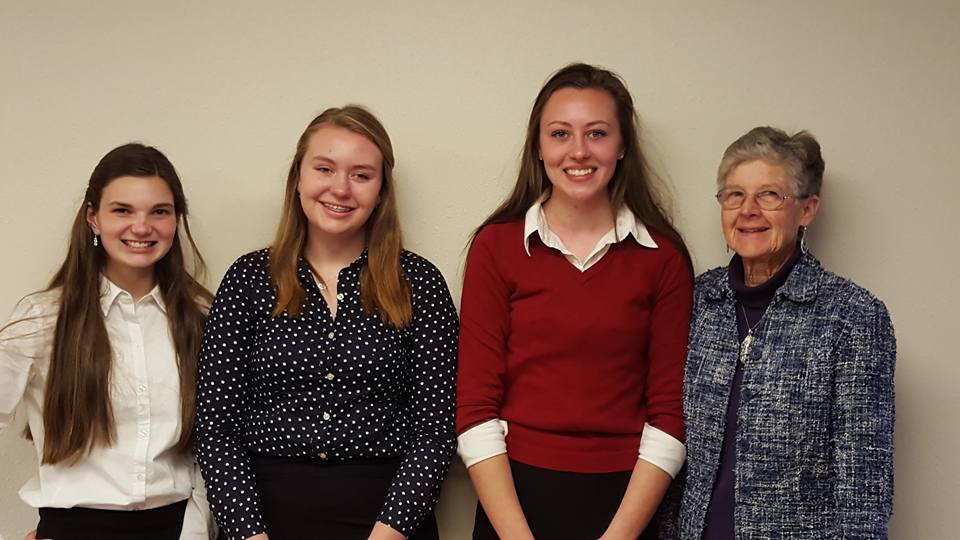 Thank you Beef Ambassador judges! Left to Right: Mr. Kuck, Heidi Martin, Emma Morris, Cheryl Foster, Scott Murphy, and Jeff Fowle.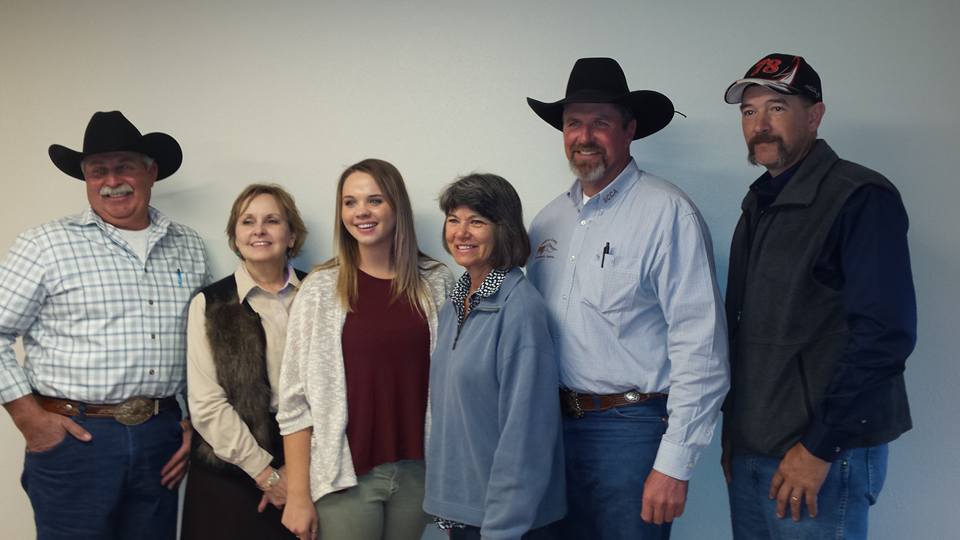 March 22. 2016 9:15AM
Siskiyou County Cattlewomen attended the California Cattlewomen and California Women in Agriculture State Spring Meeting March 11-13.
Siskiyou County Cattlewomen attended the California Cattlewomen and California Women in Agriculture State Spring Meeting March 11-13. The emphasis being on beef promotion and education. Those in attendance from the Siskiyou County Cattlewomen unit were, from left to right, back row: Cheryl Foster (State first vice president), SCCW Treasurer; Heidy Carver, membership and delegate; Sharon Erickson, president; Carolyn Houghton, director; and Lori March, delegate. Front Row: Tara Porterfield, first vice president; Rita March, delegate; and Britt March, member.
Congratulations to our 2015 Cattlewoman of the Year - Heidi Martin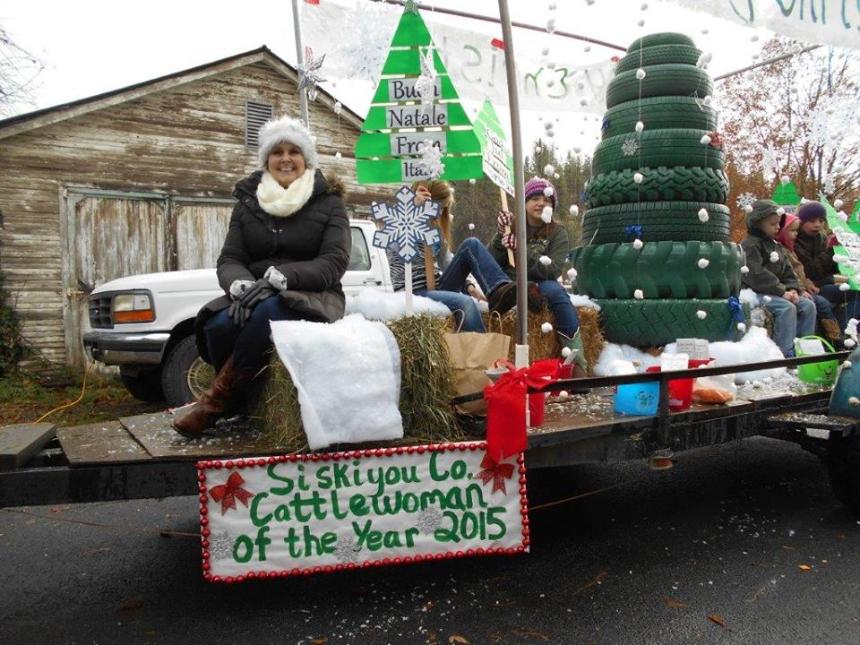 Congratulations to Lori March - 2015 Top Hand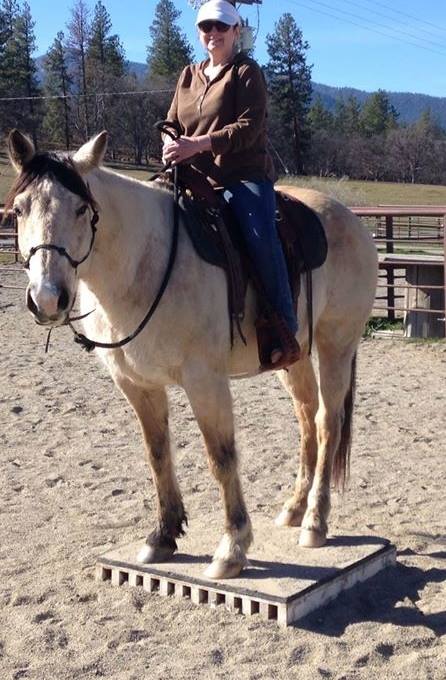 Congratulations to Libby Sears (center) -the 2015 Pioneer Beef Woman!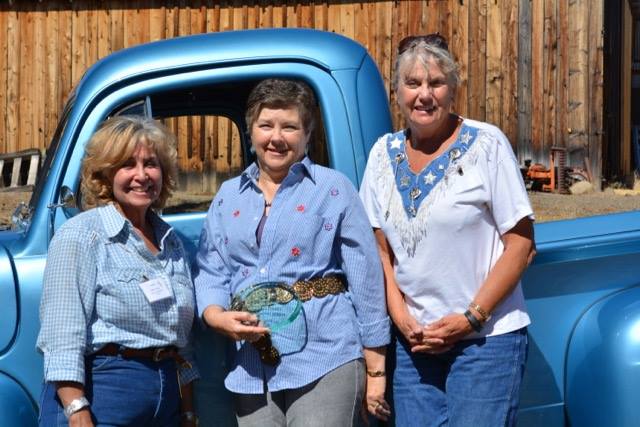 CONGRATULATIONS TO OUR
2014 Cattlewoman of the Year: Rita March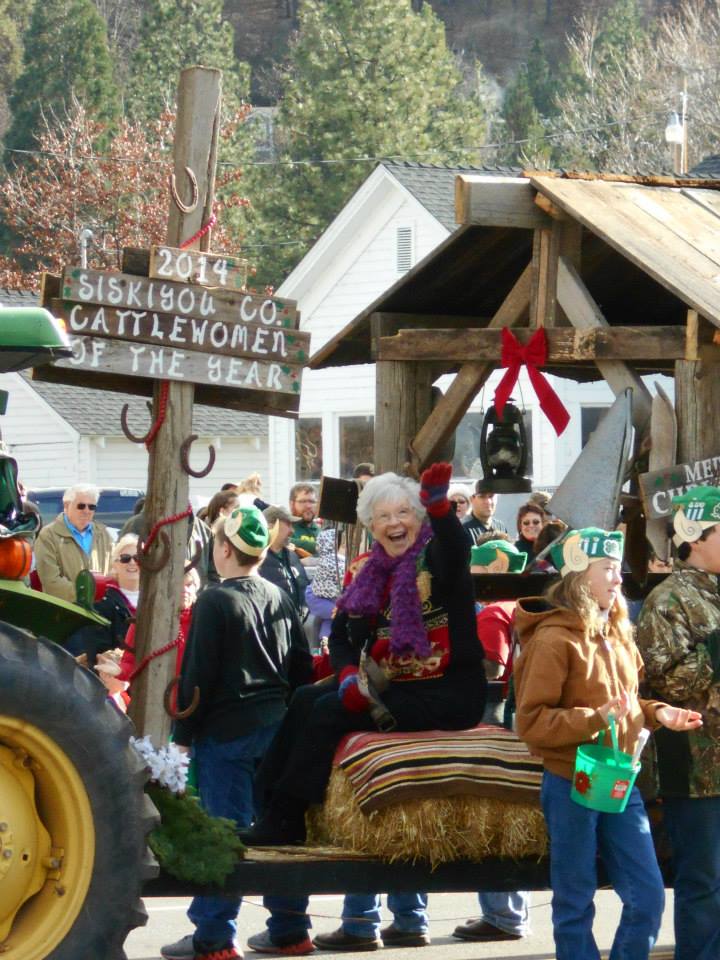 2014 Pioneer Beef Woman: Dolores Tozier
2014 Top Hand: Heidy Carver
Congratulations to the 2015 Rancher's Choice winners at the Siskiyou Golden Fair! 1st Place is Jackson Duchi and 2nd Place is Kayla Stonier. There were 9 entries for this years contest & all of the kids submitted very good record books & essays to accompany the live judging portion of the contest.
Congratulations to the Father's Day Beef Promo that was sponsored by SCCW. Lalo's Restaurant was the host for Scott Valley. Tom Gemaehlich was the winner Tracy G was the winning waitress. In Shasta Valley, J & D Diner was the host. The winner was Natalie Teixeira of Burney CA and the server was Kelly McGiluss. There were 225 entries between Lalo's and J&D Diner, with radio broadcast ads reaching over 4,000 audience listeners. Lynda Beverlin would like to thank Suzanna Fox from KSYC radio station, Dona Farnam, and Elaine Kuck for all of their help with this Beef Promo event! Great job ladies.
SCCW Members Heidy Carver, Sharon Erickson, Cheryl Foster, Lori March, & Heidi Martin attended the CCW Mid Yr. Meeting in Sacramento, CA June 11-12, 2015. It was a very informative meeting & fun was had by all. Enjoyed meeting new people. Read the recap in the Summer 2015 Newsletter.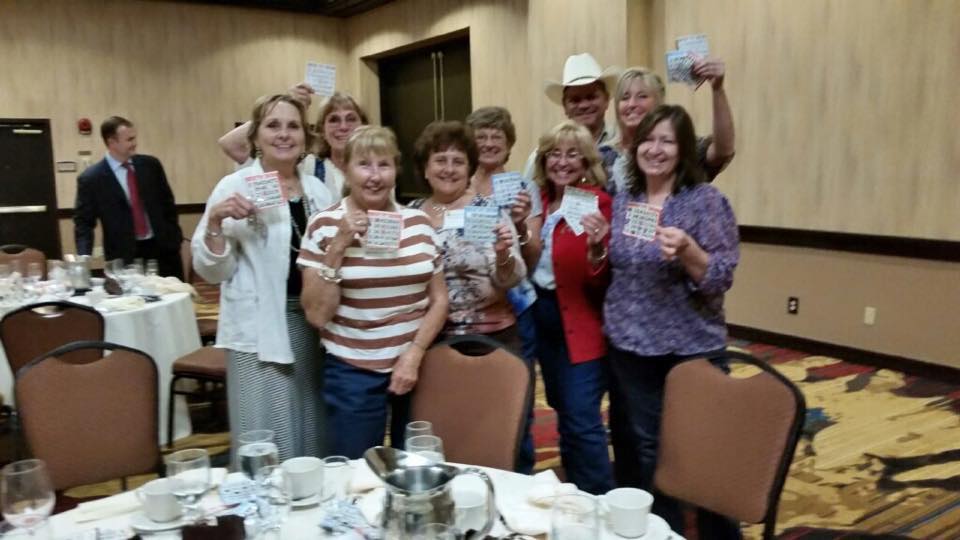 The newly formed Mid Valley Cowbelles unit & the SCCW members. Photo by Paula Bassett.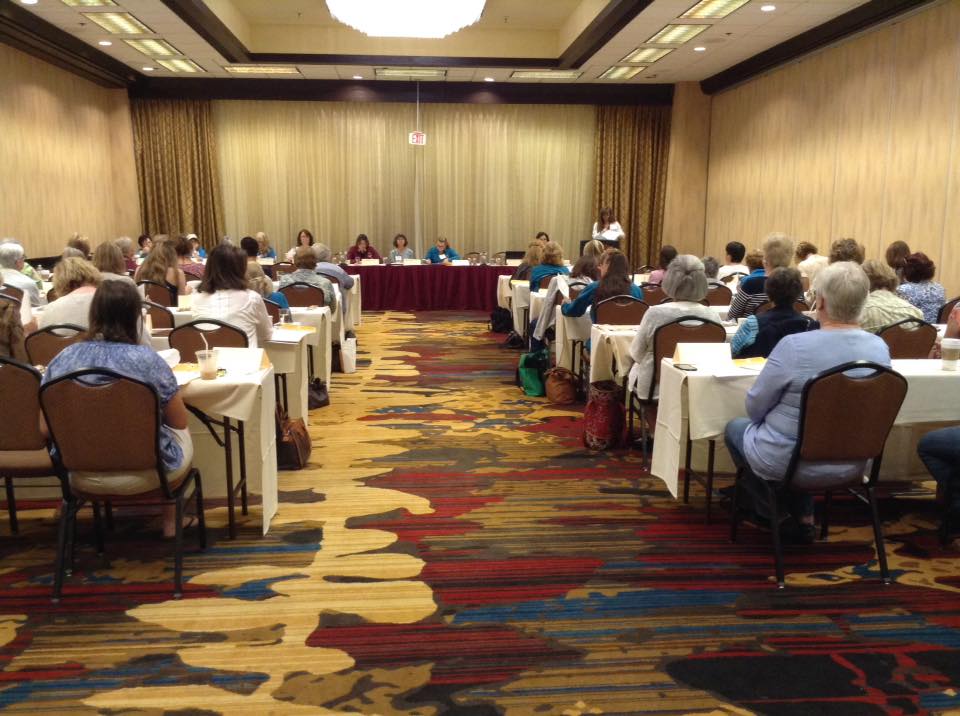 General Meeting attendees. Photo by Mid Valley Cowbelles
Congratulations to the 2015 SCCW Scholarship recipients!
Continuing Education – Emma Morris of Etna
Agricultural – Austin Dowse of Yreka
Non Agriculture – Corina Lange of Yreka
Jeannie Bridwell Memorial – Lisa Schwall of Yreka
Thank you to the Scholarship Committee: Caroline Luiz, Cheryl Foster, & Julie Kimball
Article & Photos by Michele Murphy
Thank you to all who joined us for our Spring General Meeting on Saturday May 30, 2015 at 11am at Michele Murphy's. It was a g
orgeous day for

the Siskiyou County CattleWomen's Spring meeting!! Lots of GREAT information shared today, membership will be due by November 15th to the state, sandwich booth is coming together for the

annual fair August 12-16, and we had our very own Melanie Fowle

with us today, she is the current American National CattleWomen President with us!!! Our own Angelee Dowling was in attendance, she is our local Sisk

iyou County Junior Beef Ambassador. Last month she went to the state level and won the First place for the the California State Junior Beef Ambassador contest and in September she will compete at the National level!! Way to go Angelee!!! Our guest speakers were Dr. Steve Gallego and associate Buck Hanson. They shared with us a refreshing discussion about today's meat cuts, important food safety issues, and the current uses of different cuts of meat. Thank you gentlemen!!

There was lots of good food n desserts. Hope everyone enjoyed their gift bags! See you at the next general meeting on September 19th at Cheryl Fosters.
Ag Awareness Day article by Ray Wolf from the Siskiyou Youth website
Local fourth graders participate in the 22nd annual Agriculture Awareness Day
Submitted article and photos

On Thursday, 350 fourth grade students from 15 Siskiyou County elementary schools attended Agriculture Awareness Day at the Siskiyou Golden Fairgrounds. Sponsored by Siskiyou County Cattlewomen and Cattlemen, Agriculture Awareness Day focuses on applying science, technology, engineering and mathematics to real world agriculture. Students were able to learn about a variety of agriculture commodities and how those products affect their lives.
Although many of the workshops are provided by different agricultural organizations and agencies, several are provided by FFA students from Etna and Yreka High School. These students get the opportunity to sharpen their leadership and communication skills as they share their knowledge with the elementary students. Together these groups are making a difference in agriculture education.
Article & Photos by Jean Barton
On May 14-16, 2015 The American National CattleWomen Region V meeting was held in Klamath Falls at the Running Y Ranch with 50 women from Oregon, Washington, Montana, Wyoming and Northern California. Years ago it was the Geary Ranch, and now it is a beautiful resort with an Arnold Palmer designed 18 hole Golf Course located on 3,600 acres overlooking Upper Klamath Lake. We stayed in the Lodge, but there are 525 custom built homes scattered among the 950 homesites of an average size of a half acre when we drove on the winding roadways, after the welcome reception by the golf shop. There were 67 chalets at Pelican Springs, and 48 townhouses at Eagles Landing, plus 105 time share condos on the acreage with the deer. Not to mention the sports and fitness center, the ice arena and the 8 miles of paved walking paths, and unpaved hiking trails on the peninsula with Western white oak, ponderosa pine and juniper. One afternoon we boarded a large school bus for a tour to view all the cattle grazing on the Klamath Marsh, with two local cattlemen Bill Nicholson and John Monfort as step-on guides. We were told the Wood River Valley is 47,000 acres and is six miles wide and twelve miles long. The cattle come in the spring and leave in the fall, with 40,000 head grazing for the 120-130 days. Nicholson was more familiar with stocker cattle since he mentioned 500 trucks will bring in 600 weight calves, and in the three months grazing period they will leave at 900 pounds. Said cows get too fat, so stockers are better. When this area was first settled there were dairies, farmed land, hogs and many families on the homesteads. In 1940 there were 400 school children that were bussed to Chiloquin and now there is a school bus that goes past his home at 7 a.m. with one child enroute to Klamath Falls. We drove through the Winema National Forest, Monfort mentioned the many names it has known as over the last 100+ years. In 1930 there was no snow, and in 1933 it was very, very deep. They told us about an irrigation well that was 500 ft deep, and the last 100 feet was through charcoal. Another well that was farther east was 500 ft deep, and no charcoal was found. It has a 24 inches wide pipe and water constantly flowing out, but can't use it for irrigation because of sucker fish. We would have liked to have seen where the Wood River comes out of the ground as a spring, 200 second feet, at 38'F. Were told another large spring is headwaters of Fort Creek, with pure water, no iron. Fort Klamath was established to protect the settlers in 1863 and the fort was abandoned in 1889. Yamsi Ranch, 24 miles out of Chiloquin was our destination and home of Gerda Hyde, American National CowBelle President in 1987. The ranch was established in 1911, and her home was built in 1928 with no power tools. They have a small building where the generator for power is located and high atop a tall pine tree was a television antenna. When Gerda was asked for advice about membership for young women in the organization, she said "Give them a job". Good advice for any age. Six months of the year they have fly fishing guests from all over the world, as eight miles of Upper Williamson River flows through Yamsi. Grandson Joe James manages the 450 mother cows on the deeded 4,000 acres, and they winter in Oregon instead of shipping to Northern California. We enjoyed delicious rib eye steaks, potato salad and toss green salad, black beans and brownies for dessert. There were Oregon wines, both white and red with our meal. My favorite was white vintners blend, Toasted Cow, Willamette Valley, Oregon. It was chilly, and we appreciated the fire burning in a fire-pit and then it was time for the two hour trip back to the Lodge on the school bus. Going and returning, you wanted to ask "Are we there yet?" On a serious note, Sarah Liljefelt, Attorney at Law in the Schroeder Law Office spoke on Water Shortage Strategies & the Klamath Basin Adjudication, since the Lost River and Short-Nose Sucker gets the water. Schroeder Law Office focus is water law in OR, WA, ID, NV and CA. In Oregon the snow pack peaked 40 to 80% below peak, and melted 4 to 10 weeks early. Sarah Liljefelt told us to get educated! Get involved! Know exactly what you have in your water right..the amount of water. It is like a property deed. Have the claims that were filed, and make sure they currently serve how you use the water. You want all documents that concern your certificate. Each state is different. In Nevada, the amount of water needs to be in the deed. Water is a property right. Another informative talk was Planning for a Productive Family Ranch/Farm Transfer by Bart Eleveld, PhD, Oregon State University Extension Economist, Farm Management and Sherri Noxel, PhD, Director , OSU Austin Family Business Program, College of Business. Succession Planning, is transfer of ownership. Transition Planning is transfer of management to next generation. When finding a lawyer and CPA to help you in succession and transition of the ranch, ask a farm family who has been through the "war" for recommendations. You need them to work together, and your lawyer must know agriculture. Eighteen of the cattlewomen enjoyed viewing Crater Lake National Park at the conclusion of the meeting. There was a little snow in the shady areas, and the lake was an incredible blue. The Washington ladies headed toward their home, and eleven of us enjoyed a delicious dinner at Rocky Point Resort, established 1910, on the shore of Upper Klamath Lake. A fun, informative business meeting with cattlewomen friends. ANCW Region V - Rest of the Story… May 14 – 16, 2015 from Jean Barton's notes. Among the 50+ or minus attending the Region V meeting in Klamath Falls were ANCW President Melanie Fowle, Region V Director Jeannie Kiehn, and state presidents WY Angela Whitlock, WA Marty Stingly, MT Lynda Myers, and our hostess, OR Katharine Jackson. Several cattlewomen present were president of their local units. Melanie gave an ANCW report on PROGRAMS, PEOPLE & PROGRESS. There are 31 affiliates. The traditional SILENT AUCTION at Mid-year will be a package from each region. For example Region VI will be a Napa package with wine train, hotel, wine, tickets to SF Giants game, wine tasting, etc. AZ, UT, NM, NV, CA will each donate part of the package. To buy the package, you get together with your friends and no one has to buy the whole thing. Region V will be a Sports package. YOUTH DEVELOPMENT- ANCW will partner with Farm Bureau Foundation, and go into schools in urban areas. It is a cross section of schools. In testing the lesson plans, Melanie & Lynda Beverlin went to a school in the center of San Francisco's China Town and presented their VIVAYIC in twelve presentations. BEEF PROMOTION – The retail promotion in the stores was dropped, but the Metro cooking show in Nashville was a success this spring. SOCIAL MEDIA – has had a Twitter party, Instagram contest is underway. NATIONAL BEEF AMBASSADOR will be regional instead of national in 2016-17. The same criteria will be used, but the Ambassador must be 19 or completed the first year of college and not more than 24 as of Jan. 1 of the competition year. The national junior competition will be discontinued. The term of the Ambassador will be Sept. 1 – August 31. The cost of the contest, sponsorships and event costs will be responsibility of the Region. The state sending the ambassador to the contest will be responsible for registration, rooms and meals. The date and time of contest will be determined by the Region. ANCW will be working to obtain funding to send the 7 Ambassadors to CAB for leadership training, the Leg. Session in Wash. DC; Global Beef Roundtable, and Allied Industry Conferences. The summer following their Ambassador term, ANCW will strive to obtain internships with major Allied Industry partners. This year the NBA will be held in Denver, Sept. 25 -26 with five Ambassadors to be selected, from among the senior candidates. MILLENIALS & MOMS should also include men. Not a national project, but can be continued by states and counties. Visiting farm is good. COLLEGIATE LEADERSHIP ROUNDTABLE – students meet with industry leaders and can ask questions. It is an opportunity to network, and room was packed at Convention. Young Beef Leaders – we are partnering with NCBA. JR. CATTLEWOMEN has a FaceBook page for members only, plan to have contests. LEGISLATION - In old days we used the "calling tree" and now it is by email. Wanda Pinnow of MT sends out the alerts and calls for action using capwiz. It is very important to participate. We need people to tell own story, and available to testify when needed. MEMBERSHIP – new method will be easier, since it is one renewal date. The office will know how much money they have to work with. Dues are due Oct.1st and delinquent December 31st. Membership year will be Oct. 1-Sept. 30. Strongly suggested that YOU send your dues to ANCW, instead of relying on it being sent by local or state membership chair. NEWSLETTER- effective Oct. 1, the newsletter will be on-line. For hard copy, send $ 10 to Denver, or if over 65 years old, you can request a printed copy for free. PLATINUM SPURS – membership recruitment is recognized at convention. To qualify, 5 new or 5 lapsed renewals. To retain membership in PSpurs, 3 new members. Let ANCW know if you recruit new members, so you get the credit. RECOGNIZE OUR BEST - 2014 ANCW Outstanding CattleWomen : Judy Ahmann, CA and Janice Rustad, ND; Outstanding Educator: Suze Bohleen and Outstanding Promotor: Melissa Miller. TASK FORCE MEMBERS between now and Denver will plan future of ANCW. 1-stay with NCBA; 2 – Do our own thing; 3 – partner as affiliate. Take back to your county, and encourage members to fill out survey. Help those not computer savy. Members are: Region I – Bonnie Bargstedt– NY Region II – Ashley Hughes -FL Region III – Royalee Rhoads - MN Region IV - Dr. Elizabeth Parker; Region V – Katharine Jackson – OR Region VI – Annalynn Settlemeyer – NV Region VII – Ann Marie Bosshamer – NE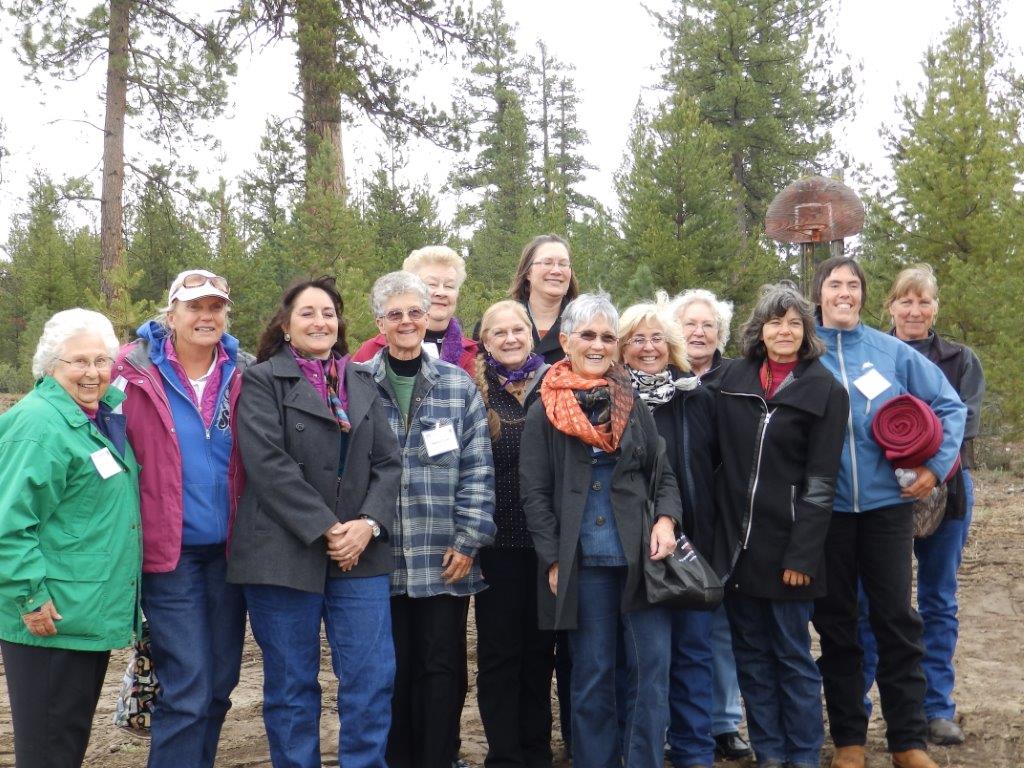 Northern California Cattlewomen at Yamsi Ranch tour during ANCW Region V Meeting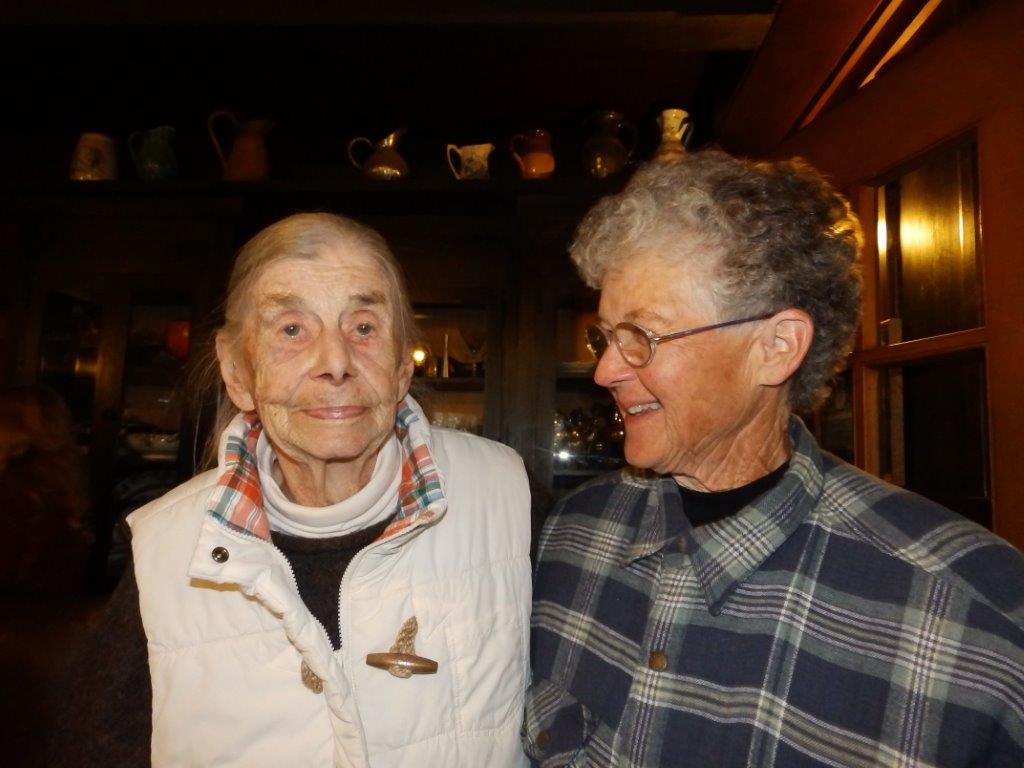 Gerda Hyde of the Yamsi Ranch & Melanie Fowle ANCW President
Wood River Valley near Fort Klamath, OR
Happy Earth Day from Siskiyou County Cattlewomen!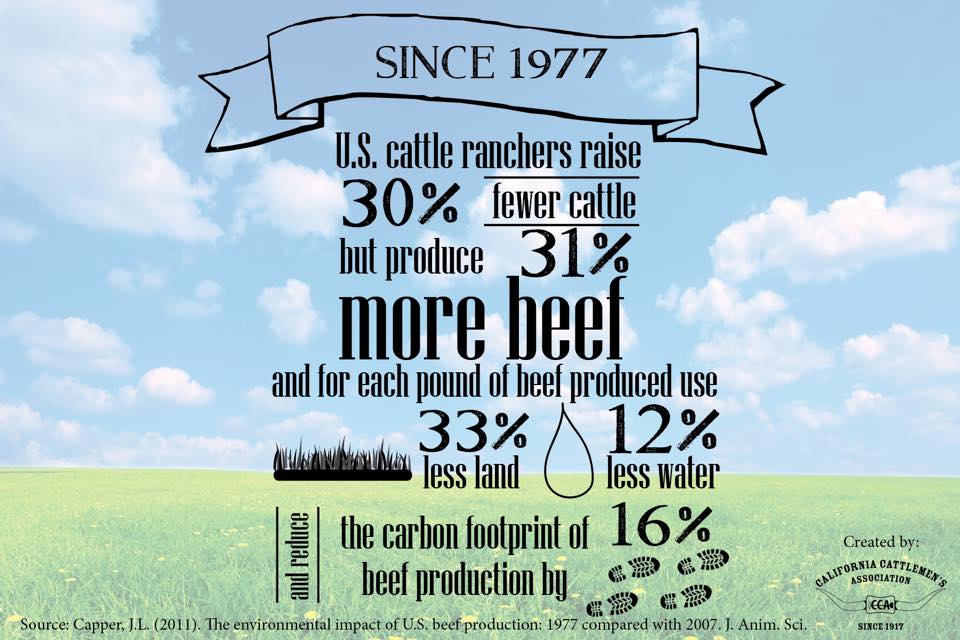 Please visit the webpage below for more info on the great project that we are supporting. What a great idea to reach an even larger audience to educate them about agriculture & rural communities.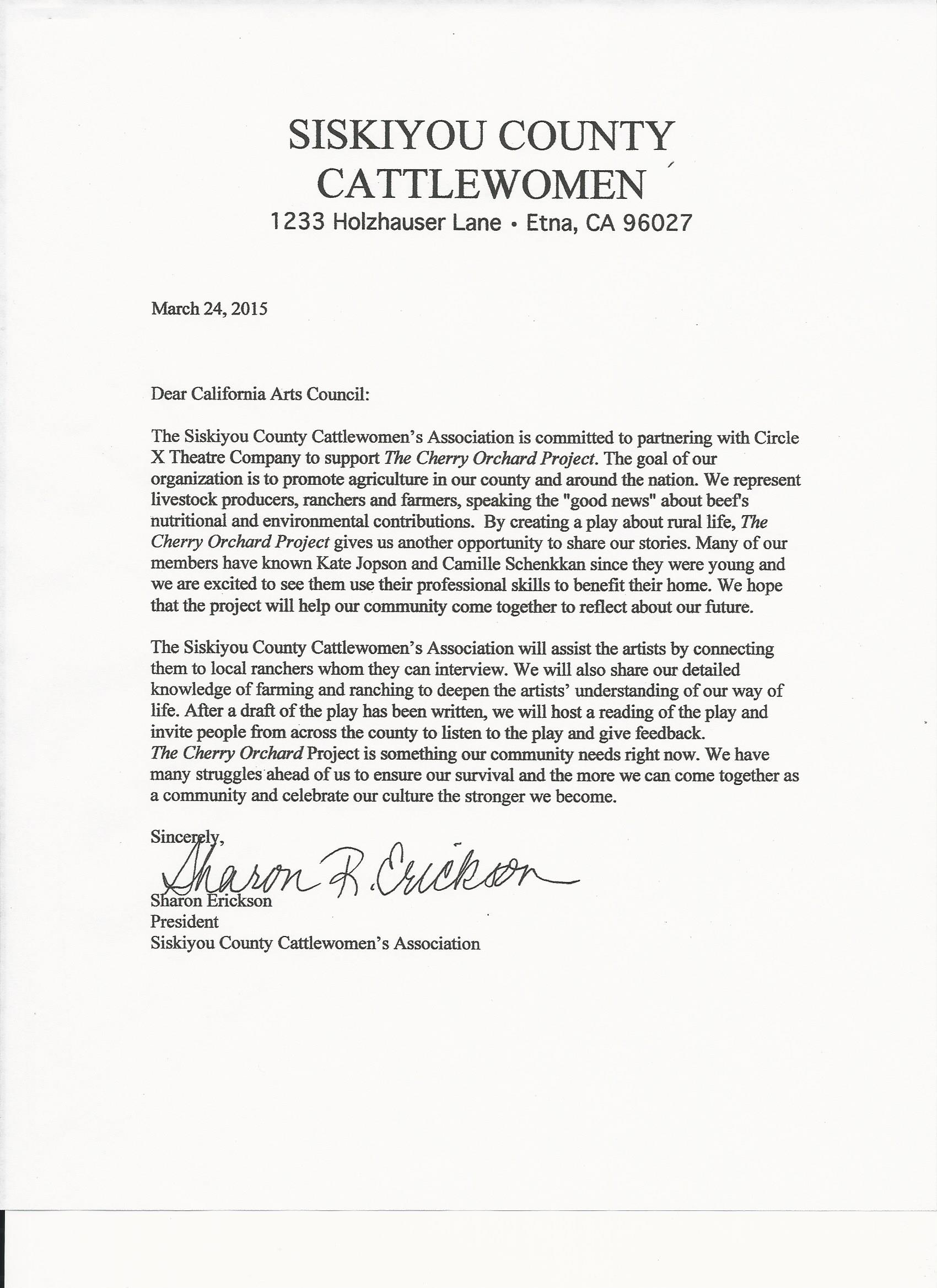 The Siskiyou County CattleWomen's annual Beef Ambassador Competition was held February 22nd. Students from around the county competed in two of three categories: media interview and consumer responses. Thank you to Katie Morris, Lynne Bryan, and Gail Jenner for organizing the competition.

Congratulations to Hayley Kaae for winning the senior division and Angelee Dowling for winning the junior division. They both will be continuing on to the state competition.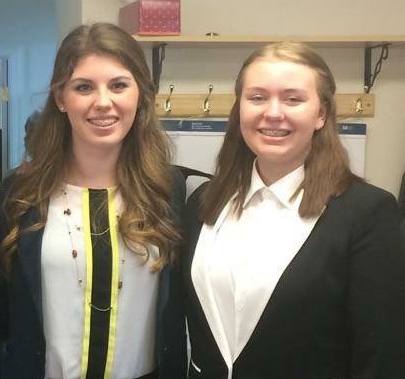 (L-R: Hayley Kaae and Angelee Dowling)
Congratulations to Melanie Fowle on being elected as ANCW President in February 2015. (L-R: Erin Fowle, Kyle Fowle, Jeff Fowle, Melanie Fowle, and Ken Fowle)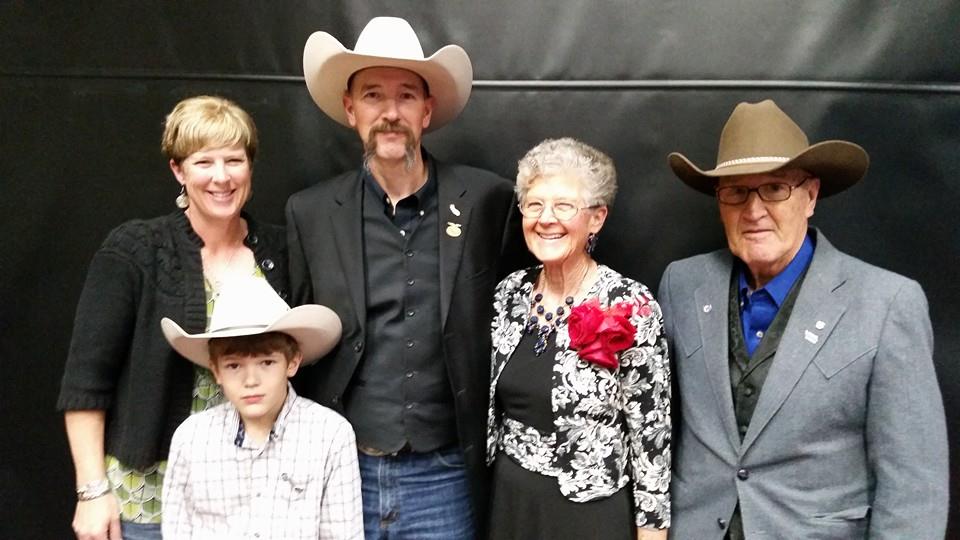 Congratulations to Cheryl Foster who was elected as CCW 1st Vice President for 2015-2016.